Are You Ready to Upgrade to
Office 365 Business?
For any organization, moving to Microsoft Office 365 is a major step, and a big decision.  While operating in the cloud offers many advantages, the choice to upgrade to Office 365 business shouldn't be taken lightly.  Whether going all-in on the cloud, or opting for a hybrid approach of cloud and on-premises systems, it's important to understand what it will take to ensure your organization realizes the full potential of the switch.
Considered mainstream by most, operating in the cloud is a key component to evolving business practices.  While cloud computing itself may be a big part of the future of daily business, Office 365 is the future of enterprise collaboration, communication, and productivity.  An upgrade to Office 365 business means anytime, anywhere access to documents and files, a highly available and flexible work environment, increased mobility and security, and many more impressive benefits and advantages.
Finding use-case justification for a potential upgrade to Office 365 business isn't all that difficult.  Almost every organization can find a reason within some sector of its business.  Examples can be found anywhere, and in any industry, such as:
With subscription-based Office 365 you always have the latest versions of software as its released – saving the up-front lump sum costs of purchasing new releases, while saving IT time from the administrative tasks of upgrading every physical PC.
Using the security and compliance features of Office 365 can help ensure adherence to healthcare regulatory requirements.
Help increase customer satisfaction by sharing product information to the cloud and making it accessible on any device – allowing customer-facing personnel to address customer requests in real time, and increasing the chances for cross-sales.
A move to Office 365 is an opportunity to start fresh and gain a system that's better organized and helpful.  But before you can upgrade to Office 365 business and take advantage of its suite of extraordinary tools built to drive modern day-to-day business, you must first understand if your business is ready to do so.
Complex organizational issues can often impede progress if not identified and dealt with prior to deployment.  Careful planning and research are needed to ensure your Office 365 readiness.
Here are some of the challenges, things to look for, and a way you can help make certain that you're prepared and good to go:
Challenges
To avoid setbacks, delays, and overspending, you must put a plan in place for overcoming the challenges of an upgrade to Office 365 business.  While each organization is different, and has its own unique set of challenges based on a variety of factors, there are some general considerations that can be applicable across industries and business size.
Security and Compliance
To put it simply, you're not ready to upgrade to Office 365 business if you don't understand your security and compliance requirements.  The right approach to security, compliance, and your risk, can mean the difference between a smooth transition, and a very rocky one.
Not only is data the most valuable asset you have, but you may also be under legal obligation to protect it according to industry best practices, or governmental standards and regulations.  It's vitally important to ensure the integrity of your data, while maintaining confidentiality within your company and in third party environments.
In doing so, customers and team members will continue to trust that your organization prioritizes the safety of their information.
In not doing so, you open yourself up for a loss of customer and employee trust, along with damages to your organization's reputation, and potential non-compliance penalties.
Thoroughly assessing your existing security program for any vulnerabilities, gaps or pitfalls, along with any regulatory requirements, can help you determine if the Office 365 security plan will be enough – or if additional services would be needed.
User Buy-in
People can often be resistant to change.  No matter what new tools are available, or how modern and intuitive a platform is, users need to use them for organizations to gain from their benefits.
Communicating with users on the advantages and benefits of an upgrade to Office 365 business, and how its tools can help make their workday easier, can give them what they need to buy-in to the move.
By understanding that a big reason for the change is to improve their working environment, users tend to feel more positive about any modifications that lie ahead.
If users feel as though they are being forced to change for the sake of change, they tend to resist and react more negatively – making the upgrade to Office 365 business that much more difficult and lengthy.
Keeping the lines of communication open by encouraging feedback and providing details throughout the process helps keep everyone informed, and feel as though they are a part of the solution.
The State of Your Existing Environment
There are numerous areas in your current environment that should be considered, assessed, and reviewed against the unique requirements of your Office 365 business solution.  Whether fully operating in the cloud, or partially operating in the cloud, your network traffic is going to increase.
In order to sync with cloud-based apps, account for increased online collaboration, complete downloads, absorb software updates, and more, there's a chance that you may need additional bandwidth.
Legacy email systems and applications should be reviewed for potential integration gaps, governance concerns, and how it interacts with other systems through automated responses, helpdesk, and more.
Do you have any secure desktops that require special care due to the sensitive nature of their usage (human resources PCs for example)?
Are new network routing options available? Depending on your unique requirements, there may be additional options available to route your data to the internet more appropriately, or effectively.
System security policies should be reviewed for potential consolidation, or possible removal if found to be obsolete.
Are there hardware items or support contracts nearing the end of their lifecycles? If so, depending on timing, they could cause delays, along with additional cost, time and resources.
Restrictive devices and outdated, unused security applications could be living in your environment – keeping internet connections and application updates from occurring.
Existing firewalls and routers could become bottlenecks as traffic increases. If not thoroughly assessed, they may wind up slowing your network's performance.
Mobile Management
With an upgrade to Office 365 business, users can utilize an assortment of different devices to access their mailbox, company files, share drives, collaboration tools, and much, much more.  With mobile phones, laptops, tablets, and more all in play, organizations must accurately establish current and future mobile needs to ensure their mobile management solutions support those needs.
It can be quite challenging to ensure security with higher volumes of mobile usage, and although Microsoft has made enormous investments in security, organizations must also do all they can to ensure the safety and security of their data.
In order to utilize existing mobile solutions, they must be compatible with Office 365 system requirements.  If existing solutions aren't able to properly integrate with Office 365, users will potentially lose data – and other problems, such as compromised security, costly fixes, damaging financial penalties, and more, could also occur as a result.
Proof of concept
Without a clear scope, or objectives to guide the defined success or failure of tools and services, clear results cannot be determined.  While it's important to ensure that the technology itself is functioning as it should, it's just as important to ensure that the integration with other apps and services are working expectedly as well.
For example, your email transition was ruled a success because your users were able to send and receive emails. But just as soon as it was declared a success, there was an issue.  It was quickly discovered that email data was missing.  Why?  Because the policy for governing data loss wasn't properly set up.

In cases like these, appropriately proving out both the technology and the application would have resulted in the issue being caught and dealt with before it was deployed.
By testing through real business use-cases and gaining thorough feedback from users, organizations can confirm if the technology aligns with business objectives as is, or if it could use some tweaks.  Defining the best use-case scenarios and choosing appropriate users to test them can help identify pain points throughout the workflow that could hinder a user's ability to complete task assignments.
To learn more about how to ensure a smooth and uneventful switch to Office 365, check out this quick and easy reference guide that includes
8 Tips for a Smooth Office 365 Transition
Click Here to Request a Copy
What To Watch For
Depending on a variety of factors, a potential upgrade to Office 365 business could be slightly difficult, wholly complex, or somewhere in between.  In any case, there are some additional details to consider when assessing your readiness for the transition.
Is your IT infrastructure truly ready?
Outdated infrastructure is one of the most common disruptions to a successful upgrade to Office 365 business.  But even if your infrastructure isn't outdated, there are other areas that may need to be addressed:
DNS:
Upon upgrade to Office 365 business, changes should be made in the Domain Naming System (DNS) to ensure that network traffic understands where it should now be routed.
Mailing systems:
Email hosted on a local computer will not have data to move, but if email is kept on a dedicated server, the data will be moved – and a proper plan must be put in place to do so without losing any data in the process.
Intranet site:
Office 365 includes SharePoint, a web-based collaborative program that can also serve as an intranet site.  Upon transition, organizations are required to identify which content is to be moved to SharePoint, and which is to stay put.
Licensing:
User management can be done directly in Office 365 for smaller organizations, but larger organizations will need to utilize Active Directory, which can be synced with Office 365 users.
Cloud Storage
Cloud storage is completely scalable, but it is not free.  While some Office 365 subscriptions offer unlimited OneDrive for Business storage, organizations that need storage beyond that which is offered in their Office 365 plan will have to pay for it.  This still may be less expensive than on-premises storage, but understanding storage needs up front can help you save you money on current or future storage needs, and achieve best-cost scenarios.
Directory Administration
Over 80% of company directories are missing core information needed to ensure a successful upgrade to Office 365 business.  Is yours complete?
Transition Timelines
Generally, established businesses with large amounts of data moving from an existing system will have a longer migration timeline than smaller operations with less data and fewer systems – but each company has unique needs and circumstances, so transition timelines can vary drastically from organization to organization.
Move Only What Needs Moved
An upgrade to Office 365 business is the perfect time to clear out useless data.  Moving obsolete or redundant data to the cloud is not only unnecessary, but can also make the transition itself more difficult.  Moving only relevant data can help make your Office 365 solution much more helpful and user-friendly.
KPI Development
Whether it's increasing employee satisfaction, reducing operational costs, or other business goals, defined business scenarios and clear metrics can help you measure the success of an upgrade to Office 365 business.
A Way To Make Sure You're Prepared
A successful upgrade to Office 365 business often involves a comprehensive readiness assessment.  These assessments are designed to gather data about your existing IT infrastructure and environment, and to determine if it can handle the impressive features and modern functionalities of Office 365 in its current state.
Additionally, an Office 365 readiness assessment also:
Helps you verify if your IT group is ready to support Office 365
Can demonstrate which currently-used applications are cloud ready, and which are not
Helps you identify organizational gaps in Office 365 readiness, and provides recommendations for gap closure.
Determines the best route for achieving a successful Office 365 deployment, including how business is impacted from the modifications of processes and practices.
Helps provide insights on security, compliance, and governance requirements – including gap identification and recommendations for closure.
Helps you project deployment costs by identifying what can, should, and shouldn't be transitioned.
In addition to reviewing your infrastructure and requirements, a thorough readiness assessment should also evaluate:
Active Directory: Ensure that your active directory environment is compatible with the requirements of Office 365.
App Compatibility: Assess existing applications for compatibility.  This helps you determine if you need to move forward with a hybrid solution, or if you can fully transition to the cloud.
End-User Experience: Get a clear understanding of user requirements and define an action plan to help users get the most out of an upgrade to Office 365 business.
Conclusion
Office 365 supports the needs of modern businesses through a highly secure, cloud-based productivity platform.  Transitioning to Office 365 offers the chance to take advantage of its impressive suite of tools and features, but you must be prepared for the hiccups and roadblocks you may experience to get there.
There are many challenges to moving and securing your data in the cloud.  Some of these challenges can be resolved easily, while others can derail the transition entirely.  Understanding how to navigate this minefield can be difficult to say the least.  But you don't need to go it alone.  Through their extensive experience and subject matter expertise, professional migration partners can help you cut through the complexity of an upgrade to Office 365 business, and can help the process go more smoothly – getting you in your new environment faster.
To learn more about how to ensure a stress-free and orderly Office 365 migration, check out this easy reference guide that includes
includes 8 Tips for a Smooth Office 365 Transition
These essential points give you a quick rundown on what areas to focus on to keep a migration headed in the right direction.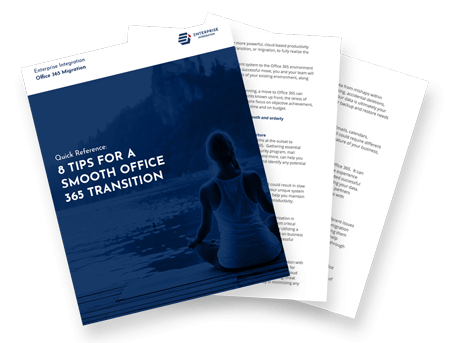 Click Here to Get a Copy
Transitioning to Office 365 can be a complex and difficult task full of risk and potential pitfalls. Truthfully, few organizations have the necessary experience and capabilities in house to handle a migration effectively. Many utilize migration partners to help ease the burden. In this article, we'll take a look at
Coming Soon: 5 Reasons to Find an Office 365 Migration Partner
.