Are You Taking the Right Approach to
Managing IT Projects?
As one of the most common and popular software suites, there are over 1.2 billion users worldwide utilizing at least one Microsoft Office product or service.  Needless to say, computer operators have become quite familiar with Word, Excel, PowerPoint, and other established Office programs over the years.  But while familiar and effective, these tools have become even more powerful operating in the cloud.
Through cloud-based Microsoft Office 365, traditional Microsoft Office apps still provide organizations with the essential tools they need to run daily business operations.  But real-time visibility, sharing, and co-authoring abilities have made data management, document creation, and communication much more effective, productive, and efficient.  Furthermore, organizations that migrate users to Office 365 find an additional suite of intelligent, team-friendly tools that deliver an exceptional computing experience across workloads.
Put simply, cloud-based Microsoft Office apps make it easier to perform essential business tasks.  Sharing documents and knowledge, communicating with colleagues and customers, finding information, planning, organizing, data processing, and more – all done more simply and with more precision in the cloud.  Administrative tasks are minimized, leaving organizations with more time to move the business forward through innovation and the achievement of business-critical goals.
Although specific benefits could vary depending on each organization's unique business position, there are definite pros for any organization to migrate to Office 365 and utilize cloud-based Microsoft Office products in lieu of using on-premises applications.
Here are 4 clear advantages:
Immediate Increase in Knowledge and Expertise
In a business setting, users within organizations often struggle with change from programs they are comfortable with. Depending on the complexity or depth of the change, learning curves can be steep and performance or productivity may suffer as a result of slow adaptation.
But even though new releases and programs are a part of cloud-based Microsoft Office, users are able to maintain familiarity with the traditional Office suite of:
Word:
Graphical word processing program that allows users to type and save documents.
Excel:
Program that uses spreadsheets to organize numbers and data with formulas and functions.
PowerPoint:
Program that enables users to create presentations of individual slides that contain text, graphics, sound, animation, movies, hyperlinks, and more.
Outlook:
Personal information management program including email, calendar, task management, contact management, and more.
OneNote:
Program for information gathering in the form of notes, drawings, screen clippings, audio, and more.
While there are some added collaborative features that come with living on the cloud, these favorites have remained virtually the same. This helps save time and keeps productivity high, since organizational personnel are working with programs they have been used to for years.
Additionally, these tools and services are not tied to any one PC anymore. With cloud-based Microsoft Office, users can edit an Excel file, add comments to a Word document, access Outlook email, and more, from any device anywhere with an internet connection.
Along with those traditional core apps, cloud-based Office includes some remarkable teamwork tools that take cloud collaboration to the next level.
Microsoft Teams
Teams is a chat-based collaboration platform that facilitates teamwork and promotes productivity through document sharing, online meetings, and a host of other intuitive business communication features.  Built for today's modern workforce environment, it provides remote or separated personnel with the ability to team up and share information using a common space.
Thru the Chat, users can have public or private conversations with teams, individual team members or groups – utilizing invites, conversation boards, video and social features.
The online video calling feature provides opportunities to have quick and smooth video calls with organizational team members or customers and clients from around the globe.
Online meetings can also include anyone inside or outside of an organization, and features in-meeting messaging, a scheduling aid, and file upload capabilities.
Fast and easy screen sharing provides users with an opportunity for real-time collaboration or technical assistance.
Audio conferencing capabilities provide team members an opportunity to participate in meetings via phone call without an internet connection.
Users experience a shared workspace for other cloud-based Microsoft Office apps including Word, Excel, PowerPoint, OneNote, SharePoint, and more – providing the option of working live without toggling between applications, and document storage for sharing files within conversations.
Because Teams is amazingly straightforward and user friendly, the learning curve is typically quite small, allowing users to pick up and run with the application almost instantly.  Beneficial for both in-house and remote teams, Microsoft Teams can help improve organizational productivity, heighten collaboration across departments, and help organizations complete tasks more quickly and efficiently.
If you'd like to learn more about Teams, including information on Return on Investment potential, check out our report on
6 Reasons Your Business Should Be Using Microsoft Teams.
Click Here to Request a Copy
Microsoft SharePoint
SharePoint is a browser-based collaboration system that functions as a securely-shared file repository, web content management system, and an intranet – including communication, workflow collaboration, and data exchange features, among many others.  SharePoint also provides information access control capabilities, and the ability to automate workflow processes.
Customizable and extremely scalable, SharePoint has many integration capabilities with other cloud-based Microsoft Office applications – providing organizations with a variety of potential ways to experience increased efficiency and productivity.  Features like security controls and co-authoring make it easier to institute data sharing and recording practices, while allowing users to maintain the integrity of their work.
Team members can create sites to share documents, files, and other information with co-workers, business partners, and customers.  Some of the powerful advantages and abilities that SharePoint provides include:
File Versioning: Managing multiple versions of a file, including a commenting function for added descriptive text.
Sharing: Keep team members in the loop by utilizing document libraries, calendars, and more, while also sharing business updates and other information across selected sites.
Check in / Check out: Protect data by locking a file from changes by another user.
Indexing and Searching: A powerful feature that prevents the need for users to dig through multiple levels of folders to find the right file.
Workflow Automation: Minimize administrative tasks by automating actions within the workflow, such as document movements and information recording.
SharePoint delivers a web-based place where users can immediately share a document or file with other team members that need to see it, encouraging collaboration and enabling constant and effective communication with all necessary personnel.  At its core, SharePoint's purposes are to:
Store files and documents in a more useful and secure structure than a traditional folder system.
Traditional folder setups stored on a physical server may not have a version history with traceable file name changes.  SharePoint provides a better understanding of why a document exists, along with visible history and context.
Ensure team members receive relevant critical information and can easily reference it when needed.
Rather than sending a group email with attachments that may be unread, or misplaced, SharePoint allows all necessary personnel to see relevant information and communication effectively.
OneDrive and OneDrive for Business
Akin to personal cloud storage space, OneDrive is Microsoft's cloud-based service that allows users to store and protect files, manage and share them with others, and allows files to be synced across desktops, mobile devices, and browsers.
Perfect for sharing personal files, OneDrive allows users to:
Retrieve previous versions of saved documents
Automatically back up photo and video camera files
Save files directly to OneDrive from other Office applications
Access files through mobile or desktop app or web browser
OneDrive for Business, however, is built for organizations.  It allows businesses to provide cloud storage to its team members, while managing its usage from a central location.  OneDrive for Business also features higher controls for workplace security and automation, along with strong integration and tie-ins with all other cloud-based Microsoft Office applications.
Collaboration & Co-Authoring
With OneDrive for Business, users can generate or upload documents and files within their space with a host of user-friendly tools to help them organize their content.  Users also have the full functionality of Word, Excel, PowerPoint, and more.  Live editing can be done and viewed by multiple users at the same time.
Sharing & Security
By enabling security control levels for editing or viewing files, OneDrive for Business makes it easy for users to finalize documents before they are published on more visible cloud-based Microsoft Office programs, such as Teams or SharePoint.  Permissions can be placed on sets of files, or at the folder level, and can also be placed on anything shared externally.
Integration
Users can move or copy documents to different locations within the cloud-based Microsoft Office platform.  Microsoft Teams and Microsoft Exchange both enable uploading to a user's OneDrive for Business app for easy sharing, and for minimizing the potential for creation of duplicates.
Microsoft Exchange
Microsoft Exchange is the engine on which Outlook email runs.  Providing the ability to create an independent mail system, Exchange is designed to centralize emails into one database, instead of being downloaded and stored on individual computers.  It includes communication and organizational features such as:
Email hosting
Contact Management
Calendar
Meeting Invites
Task Management
Exchange is the server application that manages and backs up email, calendar, and contact data – storing and protecting everything that happens in Outlook.  Its importance is felt throughout the organization, with far-reaching benefits like:
Shared calendars: Stay more organized and productive with the ability to view team availability at any given time or day.
Centralized emails: Eliminate the risk of losing emails on individual computers that may crash.
Productivity: Providing access from home, office, or on the road – simplifying communication and collaboration.
Minimize email threats: Exchange's built-in defenses actively protect your communication data through multi-layered anti-spam filters and anti-malware engines.  Exchange also conforms to all major compliance standards.
Out-of-Office: Replies that help keep the workforce informed when a team member is out of pocket.
Flexibility: Exchange can be installed on a local network, hosted in the cloud, or in combination, depending on unique business needs.
With cloud-based Microsoft Hosted Exchange:
Emails, contacts and calendars can be accessed from anywhere, and users can synchronize data across multiple devices.
It's completely scalable, and is void of the possibility of running out of space – as would happen in a traditional local system.
It helps organizations save money by only paying for what they need, and eliminating the cost to setup and maintain an on-premises Exchange server.
It's highly available due to enhanced infrastructure from cloud providers.
Easy Communication and Collaboration
A user's ability to take their work with them and collaborate without restraint has changed the way day-to-day business is done.  Cloud-based Microsoft Office has led the charge in providing organizations with the communication and collaboration tools they need to streamline task completion, increase customer satisfaction, and maintain competitiveness in the market.
Through simpler and more effective communication and collaboration, Cloud-based Microsoft Office tools have simply made life easier for organizations worldwide to get work completed more efficiently, and to achieve critical business goals.  Here are some of the areas where these tools are positively impacting daily business:
Increased Productivity
With projects in the cloud, an entire team gets a real-time view of progress.  The focus is able to shift from finding out where a project stands to already knowing where a project stands and immediately working more efficiently toward accomplishing tasks.
Sharing information and collaborating both inside and outside the organization's walls becomes simpler, and each team member can get a clear snapshot of workloads, timetables, assignments, and more.
Efficient Use of Time
Mobile devices themselves have certainly increased the mobility of work, but the anytime, anywhere access to email, documents, and shared information and knowledge offered by cloud-based Office apps, has allowed team members to make efficient use of their time while in and out of the office.
Confident Client Interaction
Communication with clients is a key component to the success of any business.  Being able to effectively stay in touch, sometimes across time zones or even countries, is of paramount importance.  But even more important than staying in touch is having accurate information to provide when a connection is made.
Cloud-based Microsoft Office allows for easier file sharing and real-time data visibility that's synchronized across the enterprise.  No valuable information is lost or missed, and necessary team members can stay in the loop with every update or change.
Collaboration with Partners
Sharing sensitive information with third parties is a concern for many organizations.  But encryption and document expiration features prevent unauthorized users from accessing files, and have allowed organizations to collaborate without worry.
Reducing Confusion
Uncertainty and confusion can often lead to delays which in turn can lead to negative project outcomes.  Centralized and shared spaces allow all team members to share contributions and track objectives, task assignments, and current progress – providing clarity and minimizing confusion.
Real Time Co-Authoring
To meet deadlines, or just because of regular workflow processes, projects may require different team members to work in the same document or file.
Cloud-based Microsoft Office provides the ability to work and edit within the same document at the same time.  Users can view edits as they happen and gain clear visibility of changes and additions.
Instant Communication
Users can utilize cloud-based Microsoft Office tools to instant message colleagues, partners, or clients.  Virtual meetings also provide an efficient way to bring a remote team together for providing updates, to share ideas, and for collaborating over distances.
Screen Sharing
Users can easily share their screen with tech support, colleagues, partners, or clients to quickly assist with problem resolutions, or to provide context for complex discussions.
  Built-In Robust Security
As more and more business is done digitally, security of an organization's business-critical data is of the utmost importance.  Data is the most valuable asset that an organization has, and failing to sufficiently secure that data can cause long-lasting damages to reputations and bottom lines.  Frequent high-profile security breaches in recent history have shown that consequences can be swift and severe.
With the remote workforce increasing and more devices being used outside an organization's walls, the task of sufficiently securing data has become even more complex and difficult – and let's not forget about the increasing intelligence and sophistication of cyberattacks.
Security in the cloud is often misunderstood.  A common thought is that moving your data away from your premises and into the cloud means that it's not as safe, and that it's more vulnerable – when in fact, the opposite is true.
With cloud-based Microsoft Office, the responsibility for the security and reliability of data falls on Microsoft, allowing users to take advantage of their colossal investments in security.  Dedicated threat management teams seek out, anticipate, and alleviate unauthorized or malicious access at an around the clock pace – and in case data is corrupted, disaster recovery is in place through backup systems.  This is a level of security that few companies can manage to produce in house.
This high degree of built-in security in cloud-based Microsoft Office also allows in-house IT teams to reallocate time and resources toward more business-critical tasks.  Other features that are helping to keep organizational data safe are:
Mobile Device Management
If a device gets lost or stolen, an organization's IT team can delete the business data on it without having to use the device itself.
Authentication
Multi-factor authentication provides added security and protection for sensitive data.
Email Encryption
To ensure emails are read only by those they were meant for.
Exchange Protection
Advanced email access security against spam and malware.
Threat Analytics
Detects and alerts of suspicious network behavior, including scanning for risky links and attachments and preventing them from causing damage.
Data Loss Prevention Policy
Allows organizations to identify sensitive information across cloud-based Microsoft Office locations, as well as prevent accidental sharing, producce loss prevention reports, and continuously monitor and protect sensitive data.
Not every organization is the same, and neither are their security needs.  So while all of the security features of cloud-based Microsoft Office programs may not be needed in every organization, there's no lack of strength when it comes to Office's security capabilities in the cloud.
  Cost Savings & Intelligent Spending
Ineffective communication, fruitless collaboration, poor time management, and improper planning are just a few of the reasons for wasted resources, duplicated work, and project failure.  When team members don't have a clear understanding of task assignments, responsibilities, progress, and more, it's easy for projects and daily work to wander off course.
Microsoft's complete suite of cloud-based Office applications provide teams with the tools they need to communicate and collaborate effectively, and in turn, allocate resources appropriately for efficient completion of work – on budget and within scope.
Subscription-Based Convenience
Cloud-based Microsoft Office is paid for on a subscription basis.  This means that organizations essentially never again have to pay large lump sums of money up front to re-purchase new versions of the software upon its release.
Organizations pay monthly fees for each user, and Microsoft provides updates automatically at no additional charge – including the latest features and versions of each Office app.
This allows financial teams to plan a budget easier.
With a subscription, organizations also gain access to Microsoft's high-end cloud infrastructure at a fraction of the cost.
Reduce Operational Costs
With cloud-based Microsoft Office, there's no need for spending additional money on physical storage units and servers on premises – the financial pressure associated with maintaining these items is effectively eliminated.
In-house IT teams are also able to spend time and resources more wisely, working on tasks critical to business achievement rather than uninstalling old versions of software and replacing with new on each individual computer, troubleshooting server failures, or other mundane administrative tasks.
Pay Only For What You Need
Very rare is a case where everyone within an organization needs the same exact Office features.  Microsoft understands this and cloud-based Office is not a cookie-cutter approach – users are able to gain access at a level of their choosing.
It offers customized packages where organizations can mix and match plans.
It gives organizations a chance to pay only for what apps or services they need – and provides the ability to scale as needs change.
Valuable money saved from not overspending on the Office suite can be invested elsewhere to assist in furthering business achievement.
Final Thoughts
Cloud-based Microsoft Office has many advantageous features and its apps are both practical and modern.  Everything is connected and ready to help facilitate teamwork through team chats, co-authoring, virtual meetings, file sharing, group emails, and more.  Rather than jumping back and forth between various brands and programs, cloud-based Office provides an easy solution that includes innovative features for an entire workforce.
One of those cloud-based applications full of innovative features is Microsoft Teams. This chat-based platform allows colleagues to create and collaborate as a team, and presents truly modern solutions for today's increasingly complex work environment. But some organizations aren't taking advantage of this exceptional tool like they should.
We've created a quick report on the 6 Reasons Why Your Organization Should be Using Microsoft Teams, including information on potential return on investment.
Click the link to receive a copy of the report and
Contact Us
if you have any questions..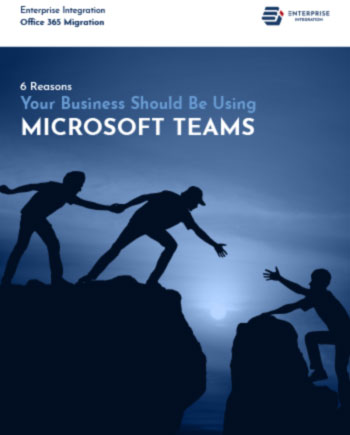 Click Here to Get a Copy