Riverbed Technology
Riverbed Technology provides a Network Performance Monitoring Suite that specializes in measuring and alerting on network performance issues across cloud-based or hybrid networks. When combining multiple cloud products from different vendors in to a Unified Communication system, network bottlenecks caused by incompatible technology can occur. Riverbed smoothes out these gaps by optimizing the communication channels between connected systems across physical or cloud-based infrastructure.
Riverbed's Open APIs provide the foundation for integration with DRE. This provides the ability to not only read the output of indexed packets, but access and control the data gathering inside the Riverbed system. After collecting data and setting custom monitoring in Riverbed, DRE can control and act on the results on its own – as part of its network healing functionality – or produce actionable reports and tickets for technical staff to review. Riverbed's APIs provide the power to automate and customize processes and improve the utility of complex sets of results.
Most importantly, since DRE has a complete language to integrate with Riverbed, Riverbed instantly integrates with any other tool or monitoring system in your infrastructure.
Solarwinds
Using Solarwinds' Orion console provides a useful look at a network architecture and performance in a single place. It also allows IT staff to set and configure a robust set of alerts and triggers that send text messages, emails or create tickets automatically. Like Riverbed, Solarwinds is also able to monitor the connections between disparate cloud applications and servers.
The power of any tool that provides complete monitoring and alerting is two-fold. One, the IT staff have to create and customize alert settings for each class of device and specific mission-critical applications. Secondly, when a part of a network goes down (a switch, for example), the loss of service across multiple devices, applications and storage devices can trigger a massive flood of nearly identical alerts. While you want a record of all of these alerts and what was affected, you don't want to have to manually go through them all before you start looking into the actual cause of the outage. On the other hand, you can't completely dismiss any of them until you determine which tickets have the same root cause and which might be a symptom of a separate problem.
That's where DRE's machine learning ability comes into play. By learning Orion's Open APIs, DRE can customize alerting for you based on the type of device or the applications it runs. It also learns and maps the entire network, so a flood of nearly identical Orion tickets from an outage can be collated and reduced to a single automated root-cause analysis. If there also happens to be a similar outage of a different application, DRE can provide separate alerting on that outage and can be set up to prioritize the alerting based on business needs and impact.
Cisco Network Assistant
Cisco offers a free tool to map and monitor their own network devices, including routers, switches, access points, endpoints and security appliances.
Cisco has been developing a complete suite of open APIs for interaction with all of its product offerings. These APIs provide the ability for DRE to pull a complete dataset from every single device on the network. They also allow DRE to control the full network infrastructure as part of maintenance and general network health tasks.
Through its interaction with the Cisco application, DRE offers a comprehensive way to monitor and control:
Network device discovery
Health monitoring
Event notification, triage and tasking
Network configuration
Network device inventory
Although Cisco's software only applies to Cisco hardware, DRE can communicate with and monitor any type of hardware, providing a seamless look at a mixed network environment.
ManageEngine OpManager
OpManager is a tool that provides complete monitoring tools and real-time reporting with proactive fault detection. The ManageEngine Suite offers real-time network monitoring, physical and virtual server monitoring, threshold-based monitoring, and bandwidth management.
OpManager provides user-generated API keys that allows the application to integrate with DRE and use its complete reporting and management services. The AI built into DRE offers advanced data integration and management at a level above what is offered by OpManager with fully customizable visualizations as well as insight into the complete network infrastructure.
PRTG Network Monitor
PRTG Network Monitor provides an autodiscovery mode that monitors and classifies system bandwidth, uptime and statistics from switches, routers, servers and other network infrastructure devices. The software uses an agentless design that employs sensors to monitor specific activity, response time, resources, database information and system status.
PRTG's set of APIs provide a direct integration with DRE, offering a one-screen view of all historical and current reporting. This provides a greater level of insight that assists in performance monitoring, resource planning and overall architecture optimization. With a clear view into how the network currently works, this information is useful for capital expansion or the proper allocation of cloud resources.
Nagios Core
Nagios is a Linux-based open-source monitoring tool. It offers proactive planning, visibility and monitoring of the complete network setup. Nagios's built-in alerting, problem response and monitoring of applications, services, operating systems, network protocols and infrastructure components.
As with many Linux applications, Nagios is quite powerful but not as user-friendly as other applications. That's where the power of DRE's reporting and single-pane display interface comes in. DRE is operating-system agnostic and can easily connect with Nagios's open APIs. Its machine-learning artificial intelligence abilities offer endless customization and powerful visualization tools.
While DRE integrates seamlessly with any Open API, it can also connect with closed legacy systems. Using visual scrapping and python scripting language, DRE can process and develop its own connectivity with other systems. The development costs for this capability are higher than working with an Open API system, but often produce the same results, thereby expanding DRE's ability to operate in any environment.
Bringing DRE to Your System
DRE's machine learning algorithms organize, report and analyze data to deliver customized historical and real time reports. With Enterprise Integration as a partner, DRE will create and deliver an unparalleled level of insight into network operations of any kind.
Artificial Intelligence is a rapidly maturing industry. AI started out as a set of clever toys but has now proven to be the most powerful and relevant technical innovation of the 21st century. As IT networks become more complex, automation and real operational insight are quickly moving from luxuries to necessities. Businesses today are saving time and money by incorporating DRE into their infrastructure.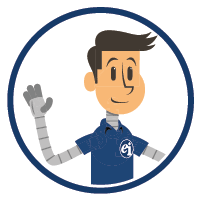 Contact Enterprise Integration to find out how DRE can streamline your systems and bring all your most important data closer to you. Many clients see results and return on investment almost immediately.
DRE and EI are ready to discuss your needs.